Feel free to reach out directly to one of our teams with any suggestions, comments and/or questions:
Communication:
communication@aveth.ethz.ch
Events:
coordinatorevents@aveth.ethz.ch
Do you want to share your events or other relevant information for the scientific staff through our channels? Look at our communications guidelines and get in touch with news@aveth.ethz.ch
What we do publish:
Tips and tricks, career advice, inspiration, funding opportunities, awards and prizes, competitions, events, activities of partners/ student associations/ student clubs/ departments suited for PhDs and postdocs in Switzerland
What we do not publish:
Job or internship openings, recruiting (please contact Telejob ), ads for services (e.g. consulting, proofreading), ads for research articles or reviews. In such cases we will respond to you by email to explain and may refer you to Telejob if appropriate (jobs/internships).
Language:
AVETH publishes content predominantly in English (note that we require clear sentences with correct grammar and spelling) to make it accessible to all our members. In exceptional cases (to be agreed upon with the coordination team), we also consider contents in German.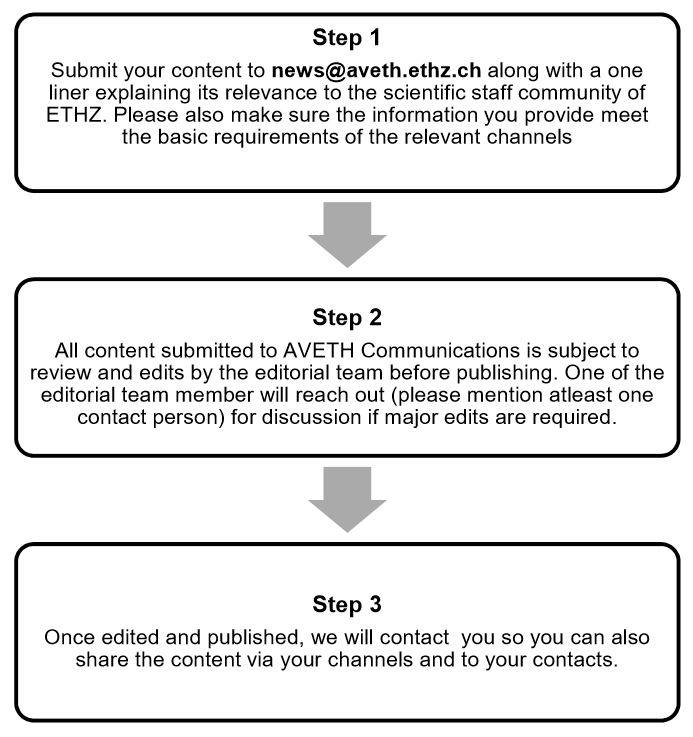 Requirements
Please use the subject of your email to inform us about the title of your content and the target AVETH channel(s) (e.g. ETH Anniversary Celebrations / AVETH Newsletter).
Whenever appropriate, we recommend submitting an image along with the text
content. Images should be pre-vetted for public domain use. We also suggest
minimizing the use of text in any image. Must include at least one contact information for our editorial team. Please read our example contents to get a feel for how we communicate with our audience. Please contact our coordination team (news@aveth.ethz.ch) at any time with questions and feedbacks. If your submission meets our requirements, our team will aim to publish it within three to
five working days.
Newsletter
Biweekly on Tuesdays
Submit by prior Friday
Image: max 1, landscape, width at least 620 pix
Brief description (125 words)
Events: where/when
Organizing body, contact, links
Example:
https://www.aveth.ethz.ch/newsletter-info/
WEBSITE
Images square (for front page) or landscape
Title: Short & crisp
Bullet list welcome
Sign up link/ call to action
Social media links
Partners/ Associations/ Sponsors
Example:
https://www.aveth.ethz.ch/poly-e-fair-2020/