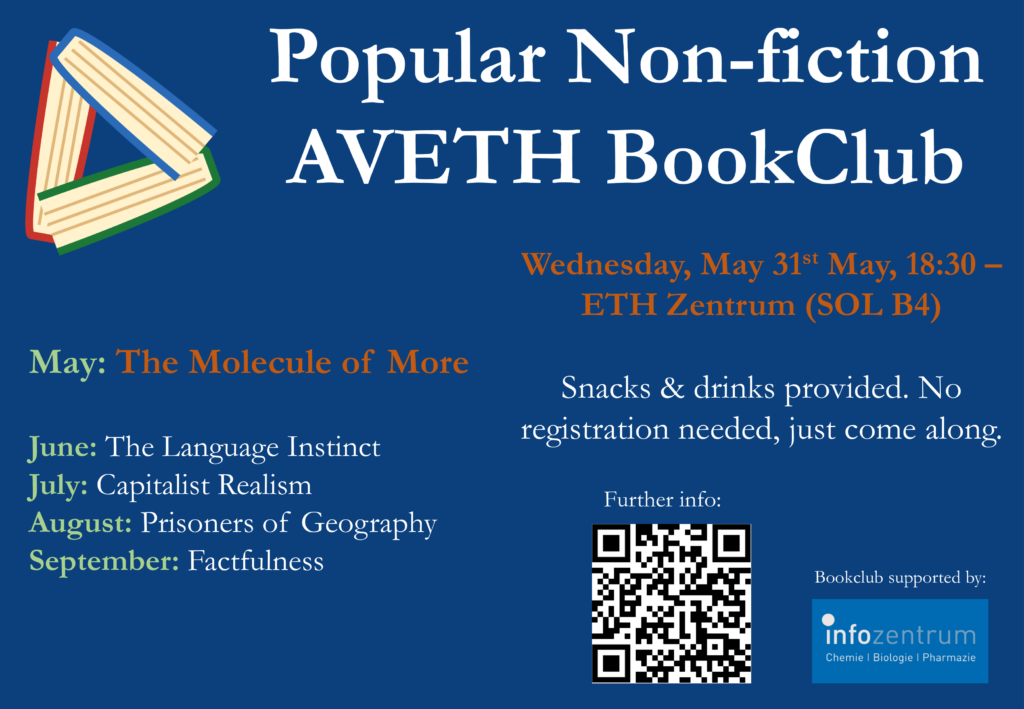 The non-fiction AVETH bookclub takes place every 3rd Thursday of the month at ETH Hönggerberg (AVETH room – HWB E01). The discussion will formally start at 18:30h but you are always invited from 18h for a get-together with snacks and drinks.
May
For the May's bookclub we will discuss about "The molecule of more". Are you curious to know how a single chemical in your brain drives love, sex, and creativity, and will determine the fate of the human race? We hope you enjoy it!
Since Thursday 18th of May is Christi Himmelfahrt, we will extraordinarily meet on the Wednesday 31th, 18:30 at ETH Zentrum (SOL B4 – you are invited from 18:00). We are happy to announce that a copy of the book is available at InfoZentrum (thanks for that!).
Although registration is not required, we strongly encourage you to let us know if you will attend (please contact jhammer@ethz.ch or avillas@ethz.ch), so we can calculate better the snacks and drinks.
Further information
If you have a query or want to be included in our mailing list please contact jhammer@ethz.ch or avillas@ethz.ch
Ideally, for the sake of a fruitful discussion, the participants should read the book in advance, at least partially. After setting the context of the author and the book, we will move to a guided (yet flexible) discussion.
We will announce alternative dates whenever the 3rd Thursday of the month is a public holiday.
We are happy to announce that a copy of the book is available at InfoZentrum (thanks for that!)