Earlier this year, doctoral students at ETH Zürich received a 2.5% salary adjustment to correct for inflation. In parallel, ETH Zürich formed a working group to explore options for restructuring the current doctoral salary system. We, as AVETH, are part of this working group, and in this article we would like to update you on the working group's progress.
The Current Situation
Let us first review the salary situation of doctoral students. At ETH Zürich, doctoral students are paid one of five rates. A first year doctoral student salary is CHF 48'216 at rate 1 and CHF 72'058 at rate 5.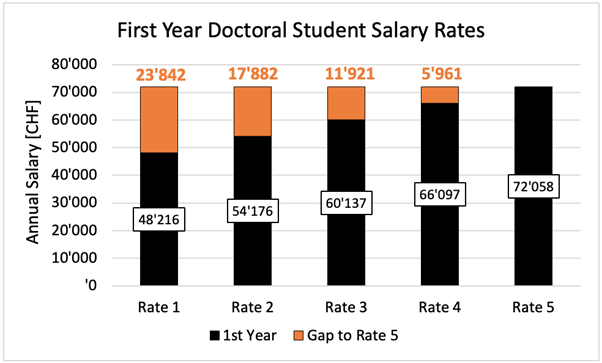 Students at rates 1 and 2 struggle to live in a city as expensive as Zürich. In fact, the inflation adjustment of 2.5% from earlier this year was the first adjustment since 2014. Meanwhile:
Other employees of ETH Zürich received regular adjustments.
Since 2014, inflation in Switzerland is equal to 5.5%.
Prices for housing, food, and energy rose by 10.9%.
Students at rates 1 and 2 pay a significant share of their salary on housing, food, healthcare, and energy. Consequently, for these students the effective living cost increase is much higher than 5.5%. Inflation affects them most acutely.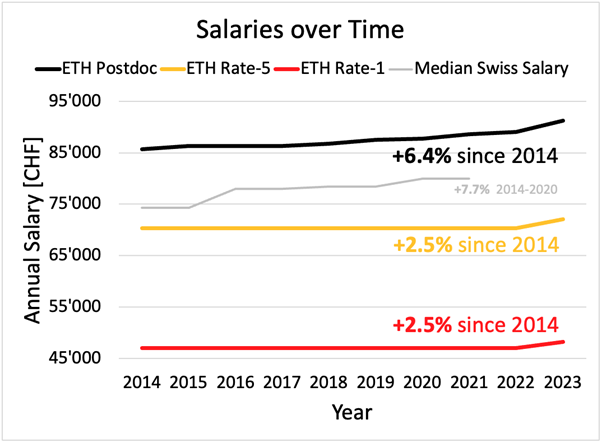 Status of the Working Group
The working group was set up by ETH's Vice Presidency for Personnel and Leadership (VPPL) and includes AVETH members, ETH professors, and VPPL representatives. On AVETH's request, the working group members have discussed that doctoral salaries should be regularly adjusted for inflation together with those of other ETH employees. We at AVETH see this as a promising first step towards fairer pay for doctoral students.


Doctoral salaries were also discussed at the last town hall with the ETH President and school board. AVETH welcomes President Joël Mesot's idea that future inflation adjustments could be proportionately greater for doctoral students than for higher-paid employees. This measure would help ensure that all doctoral students can make ends meet.


Overall the discussions within the working group are delicate and the various stakeholders have different priorities. We will continue to ensure that doctoral students' voices are heard.,


Specifically, we at AVETH are pursuing three goals:
1. Immediate significant relief for students at rates 1 and 2.
2. Regular salary adjustments matching those of other ETH employees.
3. Equitable and sustainable strategy to reduce the wage disparity between all the salary rates as soon as possible.


To stay up to date on the developments of the working group, please fill in this form. We plan to host open meetings (with beers) over the summer. Sign up so you don't miss out!


For comments, questions or thoughts, please feel free to email us.