Using quantitative & qualitative methods to uncover nuances of disabled experiences in higher education
– Dr. Margaret Price
Download Transcript
2021 AVETH Social Justice Seminar Series
The 2021 AVETH Social Justice Seminar Series is focused on disability rights and studies. Each year, this seminar series concentrates on a theme to create scholarly opportunities to learn more about social justice. We hope participation in the seminar series stimulates your curiosity and interest to be deliberately inclusive in your administrating, leadership, advising, mentoring, and teaching. Deepening your understanding of disability is important for everyone, and it is essential to promote the growth and evolution of ETH in addition to the newly green-lite Barrier-Free Project at ETH (https://bit.ly/3aTzl2B). If you have any questions or comments or would like to become more involved in social justice at ETH please reach out to diversity[at]aveth[dot]ethz[dot]ch or visit our website (https://www.aveth.ethz.ch/diversity/).
Registration link: https://forms.gle/q5iY7M7CLbzWFr1s9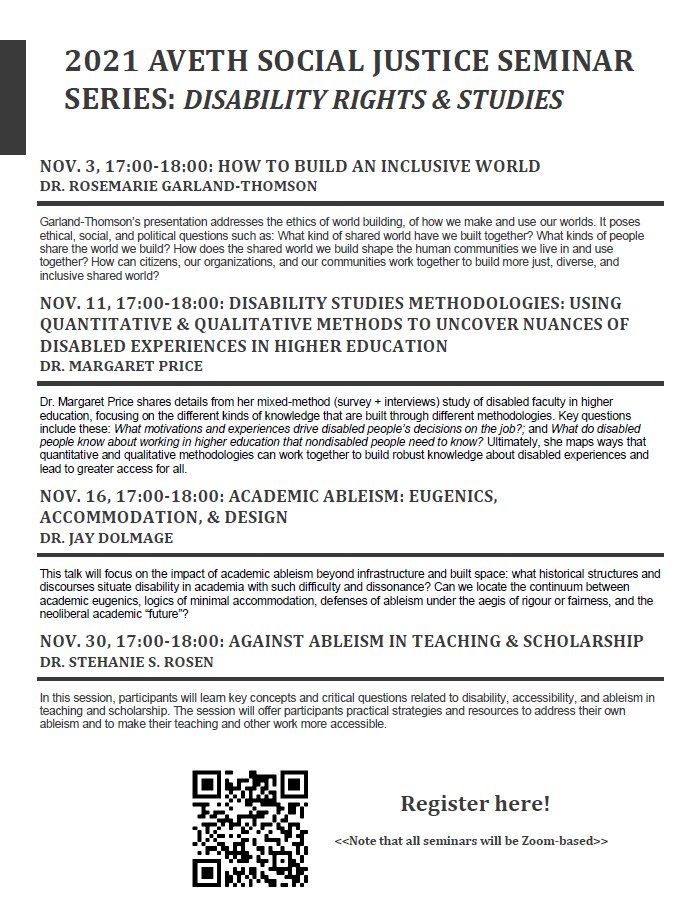 2020 AVETH Diversity & Inclusion Seminar Series
In the autumn semester of 2020, the AVETH Diversity Team organised their first seminar series on diversity & inclusion in science. Consisting of four-parts, we invited world renowned scientists and community leaders exploring unique themes at the intersections of social justice and science. Each seminar was specifically aimed at better understanding systems of oppression in academia, with a particular emphasis on racism, and how to make changes which foster justice and equity in the classroom, lab, and institution.
Inclusive Pedagogy Approaches for Diverse Learning Environments
– Dr. Catherine Shea Sanger
Transforming Institutional Culture
– Dr. Shaila Kotadia
Building an anti-racist lab
– Dr. Bala Chaudhary
Identity in Ecology and Evolution
– Dr. Maria Miriti
Read our summaries of the most important take-home messages of the seminars
The seminar series aimed to improve our collective understanding of oppressive structures in academia and how we can work together in dismantling them. Led by world renowned scientists and community leaders, the discussions explored inclusive pedagogic approaches in higher education, transforming institutional culture, how to build and support an anti-racist lab, and the importance of biocultural diversity in science. With more than 250 individuals joining the virtual seminar series from all over the world, the discussions were fruitful and engaging. The seminars provided a space for participants to directly interact with the speakers. Each speaker touched on some personal experiences and challenges as well as broader frameworks aimed at provoking and guiding audience members to make change. The speakers described how we as individuals can influence and engage our institutional and community leaders in shifting oppressive structures towards ones that promote inclusivity and justice.