Postdoc Career Week 2021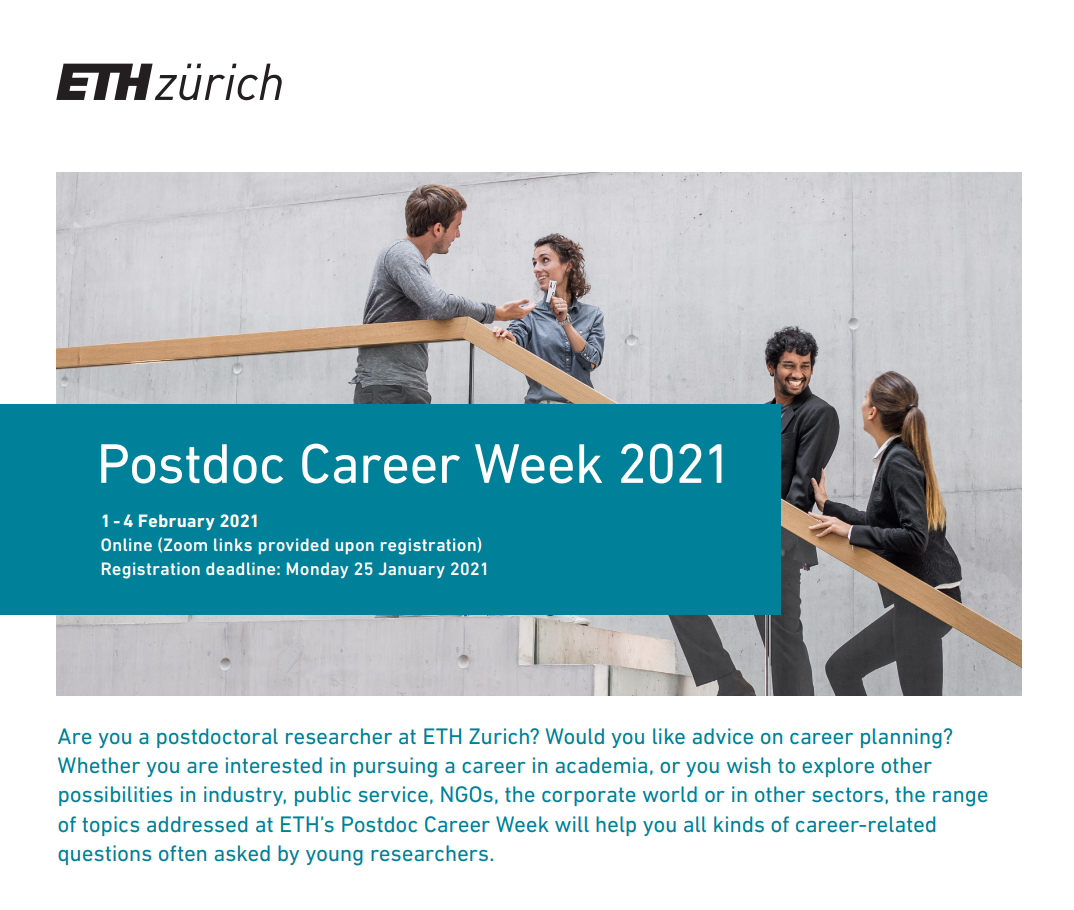 Dear ETH postdocs, 
We would like to invite you to join ETH's first "Postdoc Career Week" taking place from 1-4 February 2021.
We have prepared 11 sessions, all of which will be offered online via Zoom, to support you with career planning. Whether you are interested in pursuing a career in academia, or you wish to explore other possibilities in industry, public service, NGOs, the corporate world or in other sectors, the range of topics offered will address the various interests and questions related to career planning typical of young researchers at ETH Zurich. 
Postdoc Career Week 2021 – Sessions 
·      Introduction workshop: career planning and life balance for postdocs  
·      Forging an academic career  
·      Appointment procedures for professorships  
·      Daunting but doable: (non-academic) job interviews  
·      Transition: transferring your skills into the world outside academia  
·      Postdoc perspectives beyond academia  
·      Career evaluation: a look behind the scenes  
·      The future of the postdoctoral career phase Open  
·      Promoting yourself as a postdoc Open  
·      Meet the Vice Presidents Open  
·      Postdoc Career Week: looking back, looking forward 
For more information, please take a look at the Postdoc Career Week website. All programmes are free for ETH postdocs, however, we kindly ask you to register by 25 January 2021. 
We look forward to your participation!
---
Brought to you by AVETH and the "Postdoc Career Week" Organising Team