Removing Obstacles in Daily Life for People with Disabilities April 22nd, 12:00-13:15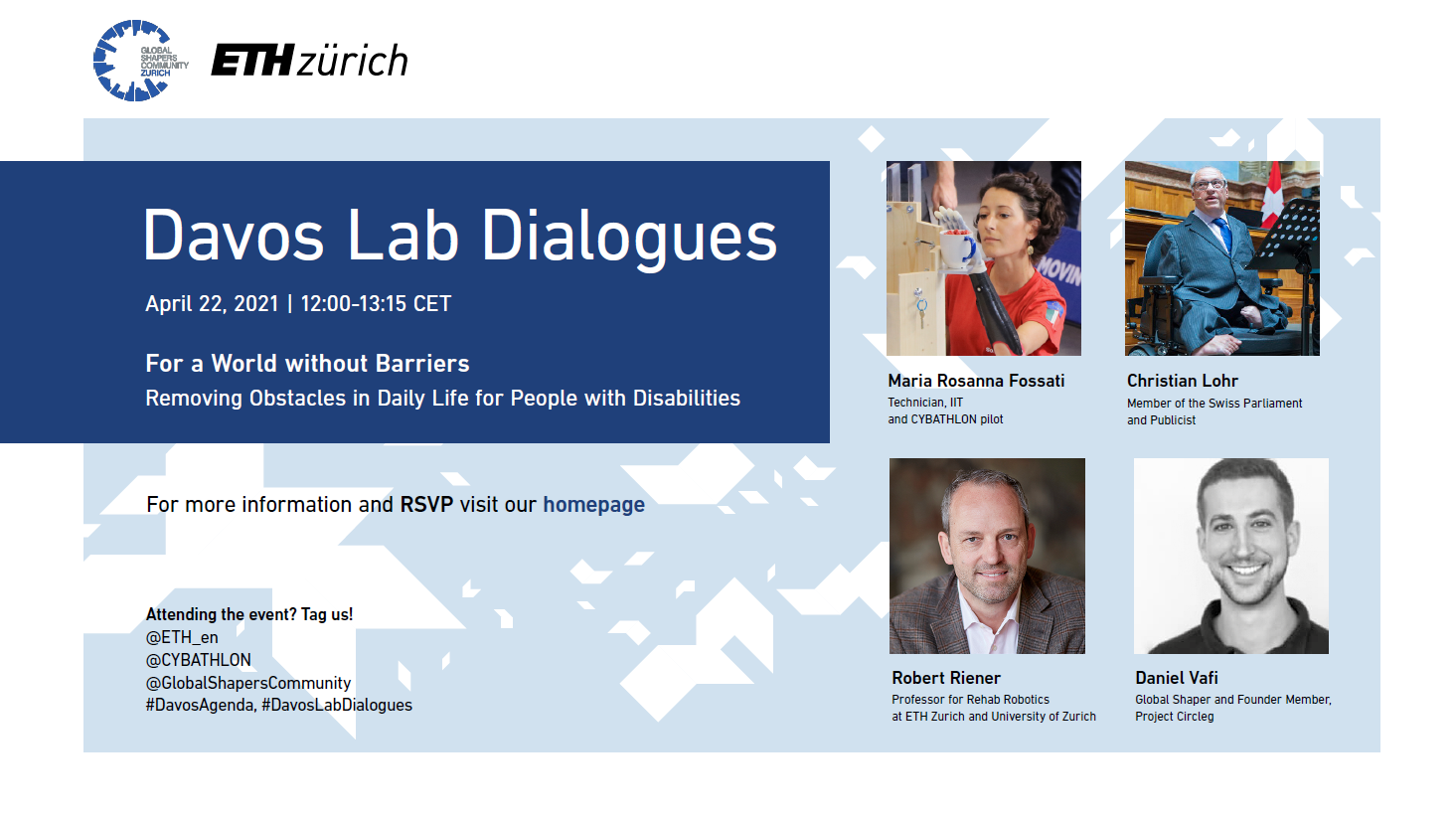 ETH Zurich and the Global Shapers Zurich Hub invite you to an online dialogue on
Thursday, 22 April 2021 from 12h00-13h15 CET, on the topic:
FOR A WORLD WITHOUT BARRIERS – Removing Obstacles in Daily Life for People with Disabilities
Take a moment to look around and consider what life would be like if activities like going up the stairs, brushing your teeth or making a cup of coffee were a daily challenge. The International Labour Organisation (ILO) estimates that 15% of the world's population – that's 1 in 7 people – has a disability. In this panel discussion hosted by ETH Zurich, we will explore what it takes to empower persons with disabilities, and why educating ourselves on this topic is the first step towards better inclusion. Why do barriers to their social and economic inclusion still remain? Why is developing assistive technologies for people with disabilities important? How do we implement the policies and actions required to enable everyone to live their lives fully?
This session is part of the Davos Lab, an initiative launched by the World Economic Forum's Global Shapers community, aiming to become the world's first grassroot and youth-driven global recovery plan.
With
Maria Rosanna Fossati, Postdoctoral Research Fellow, Istituto Italiano di Tecnologia and CYBATHLON pilot
Christian Lohr, Member of the Swiss Parliament and Publicist
Robert Riener, Full Professor for Sensory-Motor Systems, Department of Health Sciences and Technology, ETH Zurich
Daniel Vafi, Vice Curator, Global Shapers Zurich Hub and Founding Member, Project Circleg
Moderated by
Viktoria Ivarsson, International Relations Officer, ETH Zurich
Valentine von Toggenburg-Bulliard, Curator, Global Shapers Zurich Hub
This session is on the record. It is interactive and gives the audience the chance to actively participate with their input, either through questions to the panelists, or recommendations for how to remove obstacles to inclusion with actionable solutions. You can also submit your ideas beforehand by contacting either one of the Moderators on LinkedIn. We look forward to an engaging and inspiring conversation!
REGISTER TO PARTICIPATE HERE: https://www.eventbrite.com/e/for-a-world-without-barriers-tickets-150563901683
Information about the event is also online at https://cybathlon.ethz.ch/en/projects-events/experience/globalshapers
Additional information:
https://www.globalshapers.org; https://globalshaperszurich.com
Survey (please share your thoughts and contribute the recovery plan)
https://weforum.eu.qualtrics.com/jfe/form/SV_bjccMLLqnZuDVXg