Hönggergames 10.06.2023!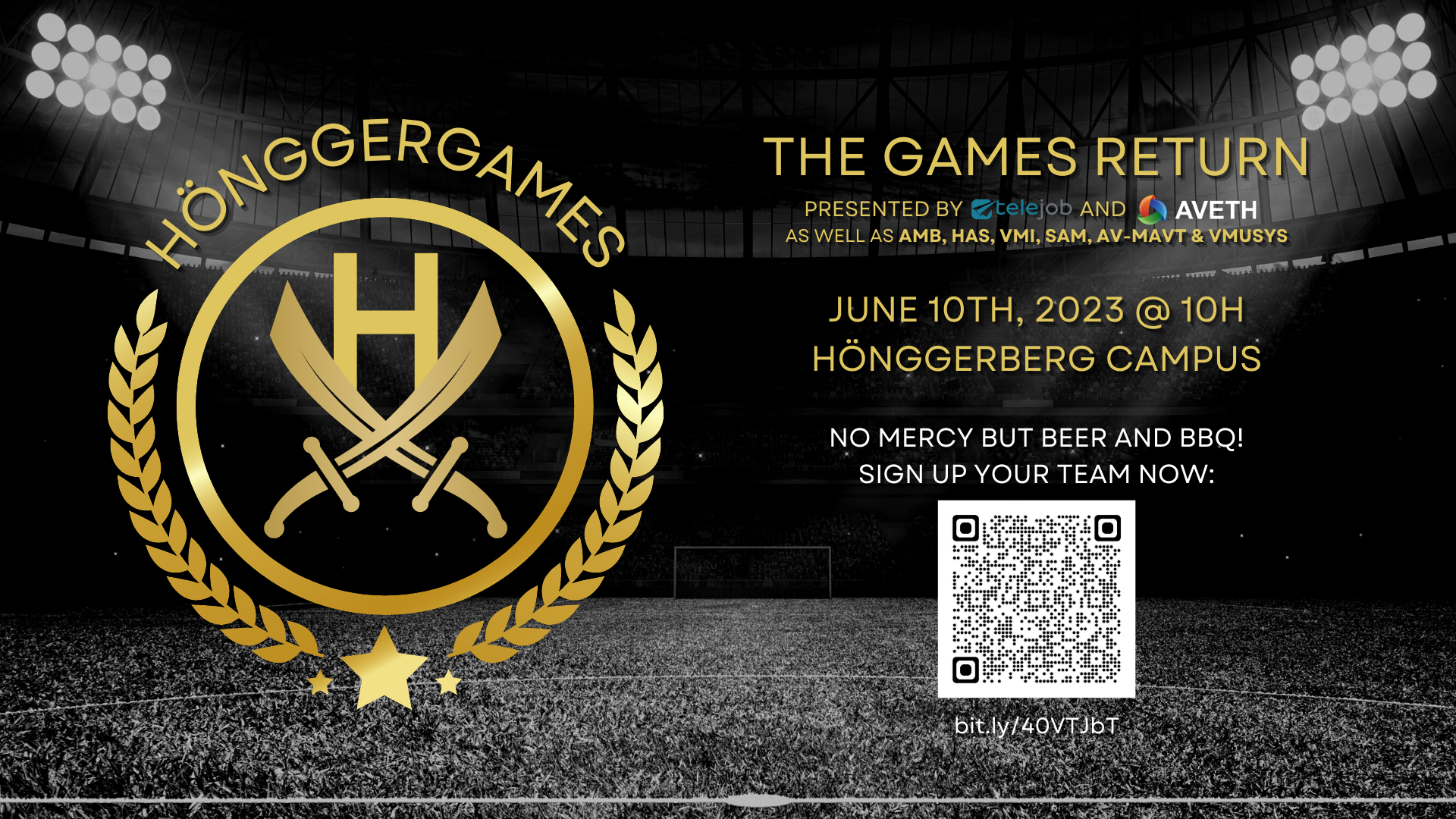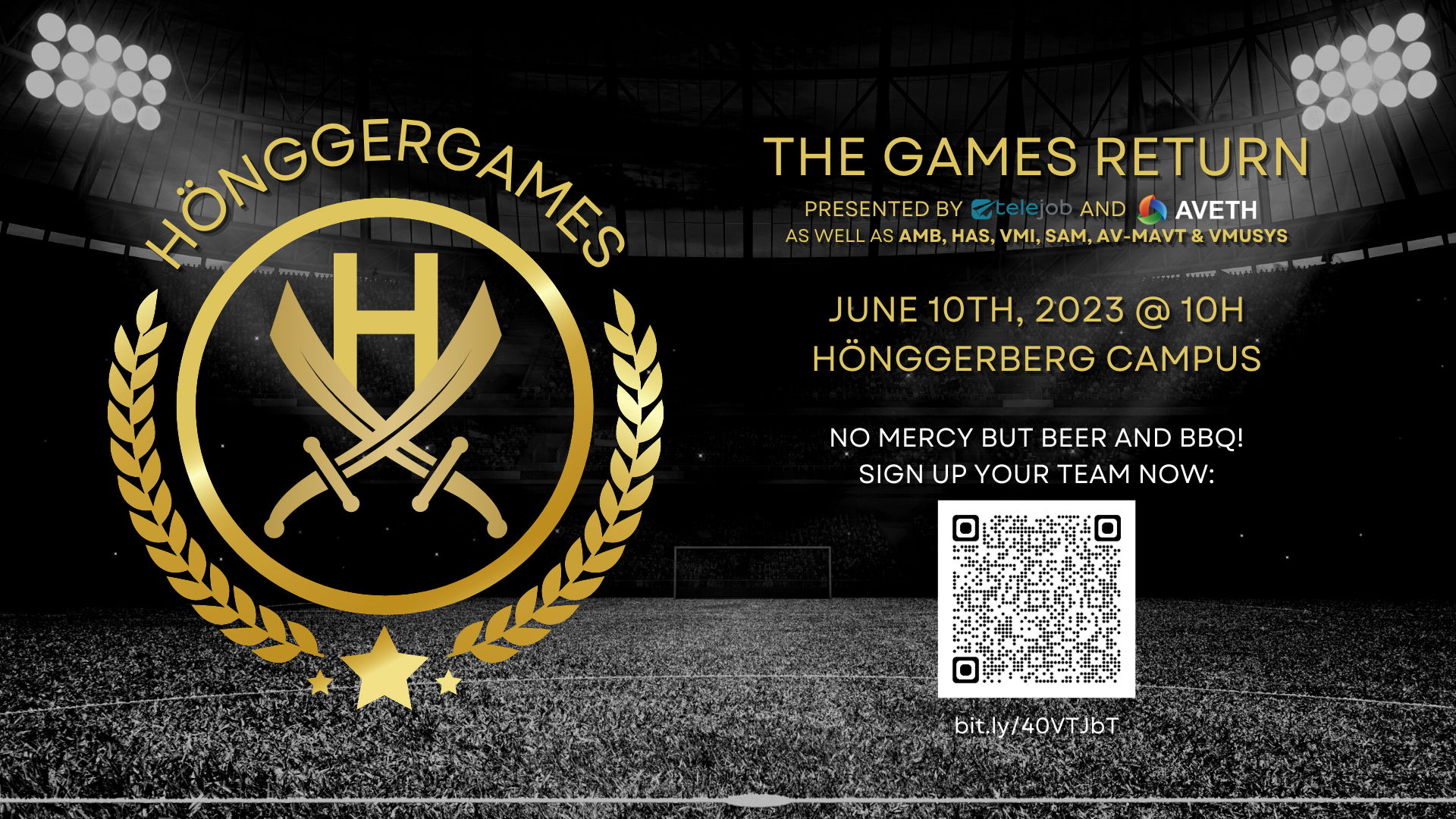 The Scientific Staff Hönggergames are back!
The departmental associations AMB (D-BIOL), HAS (D-HEST), VMI (D-INFK), SAM (D-MATL), AV-MAVT (D-MAVT), VMUSYS (D-USYS) and PSA (D-CHAB) and AVETH invite you to join us for a day of fun competitions by departmental teams of 8-12 people in department-themed games!
When: Saturday, June 10th, 2023 from 14:00 to 17:00 followed by drinks and BBQ
Where: Games all across Hönggerberg Campus from 14:00 to 17:00 and drinks and BBQ at Loch Ness from 17:00 to 24:00
Price: 5 CHF for AVETH/DA members. We will provide food and drinks.
Prizes will be heaped on the winners and they shall go down in history.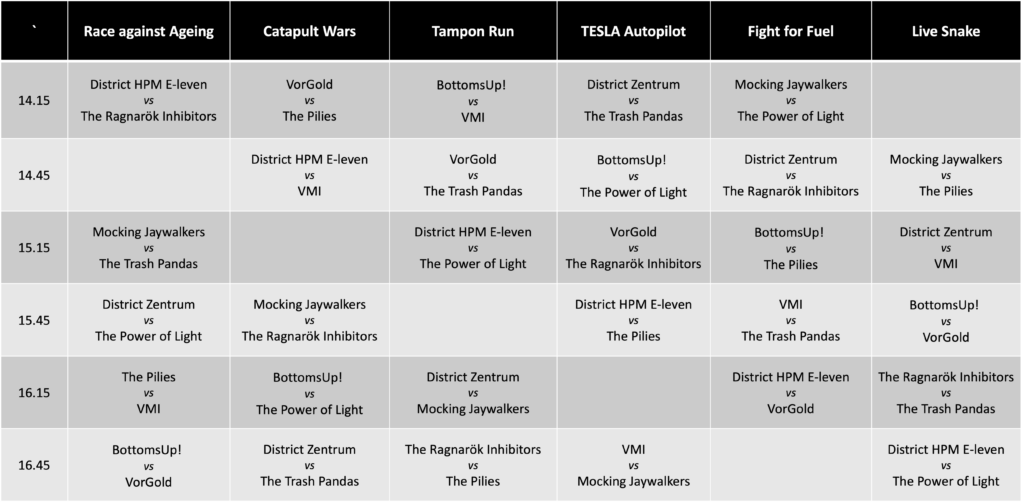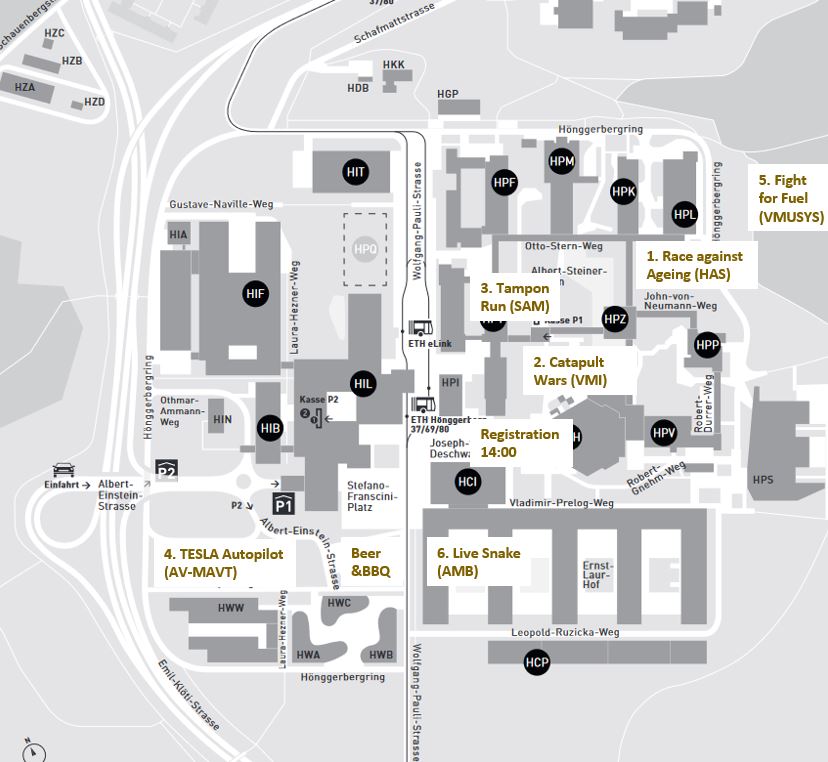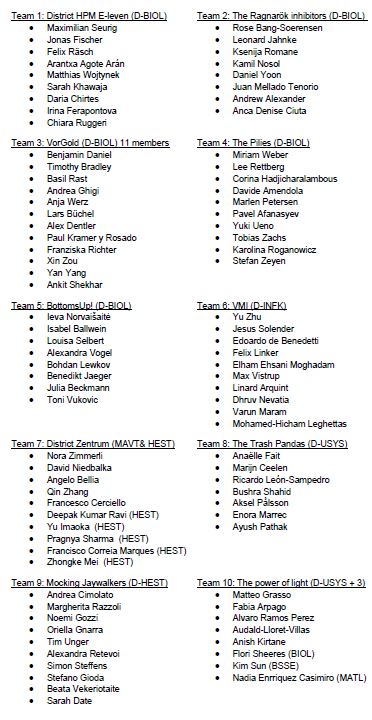 | | |
| --- | --- |
| Team 1: District HPM E-leven (D-BIOL) Maximilian Seurig Jonas Fischer Felix Räsch Arantxa Agote Arán Matthias Wojtynek Sarah Khawaja Daria Chirtes Irina Ferapontova Chiara Ruggeri | Team 2: The Ragnarök inhibitors (D-BIOL) Rose Bang-Soerensen Leonard Jahnke Ksenija Romane Kamil Nosol Daniel Yoon Juan Mellado Tenorio Andrew Alexander Anca Denise Ciuta |
| Team 3: VorGold (D-BIOL) 11 members Benjamin Daniel Timothy Bradley Basil Rast Andrea Ghigi Anja Werz Lars Büchel Alex Dentler Paul Kramer y Rosado Franziska Richter Xin Zou Yan Yang Ankit Shekhar | Team 4: The Pilies (D-BIOL) Miriam Weber Lee Rettberg Corina Hadjicharalambous Davide Amendola Marlen Petersen Pavel Afanasyev Yuki Ueno Tobias Zachs Karolina Roganowicz Stefan Zeyen |
| Team 5: BottomsUp! (D-BIOL) Ieva Norvaišaitė Isabel Ballwein Louisa Selbert Alexandra Vogel Bohdan Lewkov Benedikt Jaeger Julia Beckmann Toni Vukovic | Team 6: VMI (D-INFK) Yu Zhu Jesus Solender Edoardo de Benedetti Felix Linker Elham Ehsani Moghadam Max Vistrup Linard Arquint Dhruv Nevatia Varun Maram Mohamed-Hicham Leghettas |
| Team 7: District Zentrum (MAVT& HEST) Nora Zimmerli David Niedbalka Angelo Bellia Qin Zhang Francesco Cerciello Deepak Kumar Ravi (HEST) Yu Imaoka (HEST) Pragnya Sharma (HEST) Francisco Correia Marques (HEST) Zhongke Mei (HEST) | Team 8: The Trash Pandas (D-USYS) Anaëlle Fait Marijn Ceelen Ricardo León-Sampedro Bushra Shahid Aksel Pålsson Enora Marrec Ayush Pathak |
| Team 9: Mocking Jaywalkers (D-HEST) Andrea Cimolato Margherita Razzoli Noemi Gozzi Oriella Gnarra Tim Unger Alexandra Retevoi Simon Steffens Stefano Gioda Beata Vekeriotaite Sarah Date | Team 10: The power of light (D-USYS + 3) Matteo Grasso Fabia Arpago Alvaro Ramos Perez Audald-Lloret-Villas Anish Kirtane Flori Sheeres (BIOL) Kim Sun (BSSE) Nadia Enrriquez Casimiro (MATL) |
Examples of games at event:
Story: "Elon is asking us for help with developing his autopilot software; The smartest ETH students were assembled to steer vehicles through an obstacle course. The obstacle course is a physical manifestation of the DOJO computer and the collected data will be used to train the latest version of the autopilot"
Description: Each team is split in half. One half are "Drivers" and the other half are "Vehicles". The blindfolded vehicles are guided via commands/shouting through a maze (that the vehicles cannot see before). They have to navigate through the maze and pick up items hidden in different locations. The drivers are not allowed to step outside of a designated field. After collecting all the items, the teams with more items collected wins.
Story: It's the year 3000. Fossil fuels are depleted. The world has run out of non-renewable resources. Teams must work together to gather renewable resources to power their lives.
Description: Teams will spend ~2 mins at each station
Hydropower: Teammates must lie on their backs in a line and pass a bucket of water to each other to fill another bucket at the end. Team with the most water in their bucket wins.
Wind power: Use a fan to either blow a ping-pong ball across a table into a container or to keep a balloon in the air to reach a bucket. Team with the most balloons/ping pong balls in bucket wins
Solar power: put together the puzzles pieces of a solar panel and connect the "wires". Power begins generating when you finish. (Fastest wins)
Bioenergy: Dig through a box of soil with chopsticks to "harvest" crops. Team with the most crops wins.