Humanitarian Aid Collection for Ukraine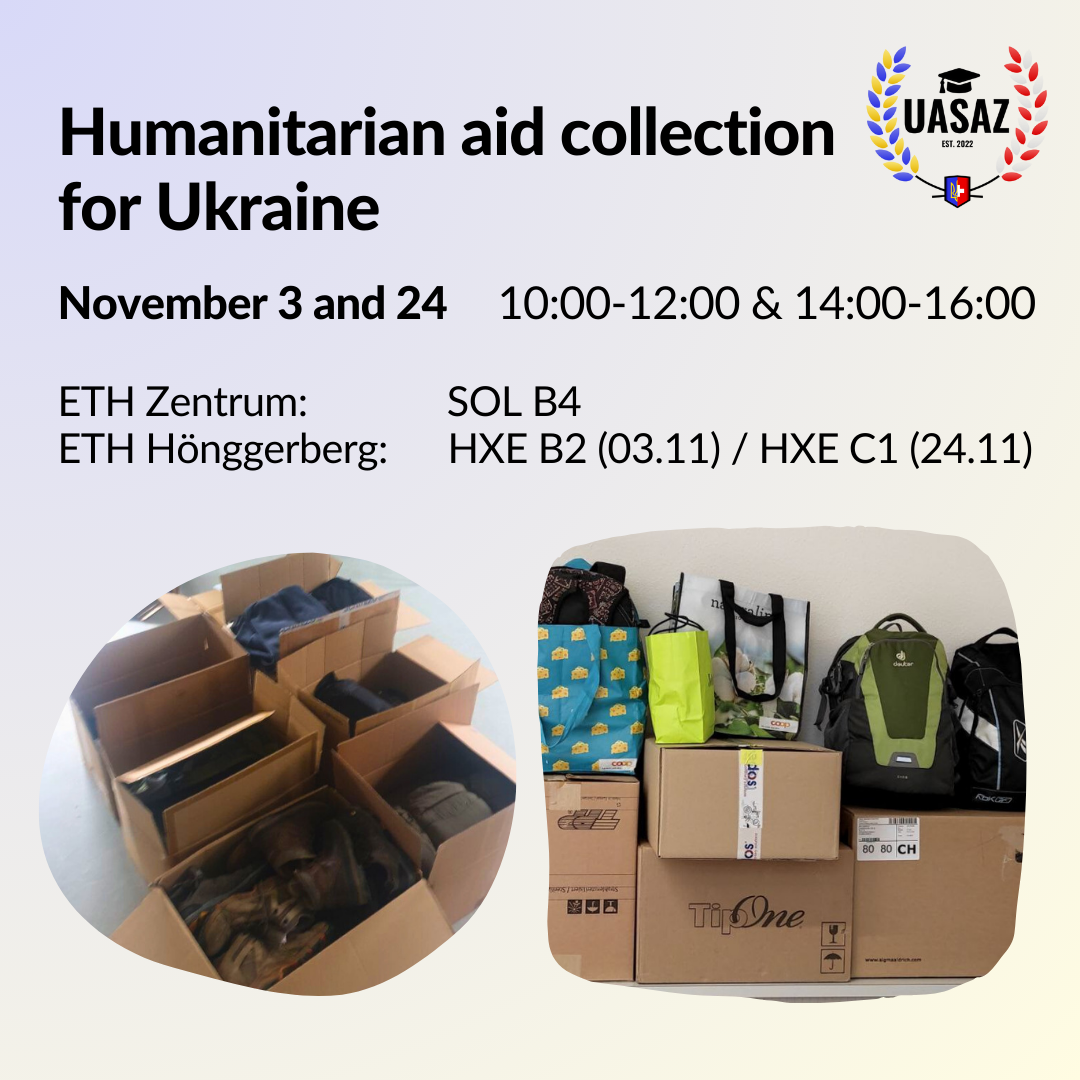 This autumn semester, UASAZ has joined forces with a registered humanitarian aid association Ukraine Hilfe Graubünden, to launch a humanitarian aid collection for Ukraine. With the winter season fast approaching and the challenges posed by expected power shortages and damaged infrastructure, there's a critical need for warm, waterproof clothing and outdoor equipment. We've set up collection two points at ETH that will accept the following items (read more: https://uasaz.org/#events)
· Hiking/waterproof/rubber/work shoes and shoe insoles; Thermal underwear; New socks and underwear
· Waterproof outerwear and fleece jackets; Gloves, hats and scarves
· Sleeping bags, tents, and yoga mats; Large hiking backpacks (with a capacity of at least 25 liters)
· Camping equipment for cooking and water purification; Headlights, camping lanterns
· Power banks and solar battery chargers; Portable power generators
· Medicine, such as pain relievers, wound care supplies, anti-flu/cold medication, nose drops, throat lozenges, and anti-burn remedies.
Date: Friday, 24 November 2023
Time: 10:00-12:00 and 14:00-16:00
Locations: ETH Zentrum SOL B4 and ETH Hönggerberg HXE C1
Link: https://uasaz.org/blog/announcement-humanitarian-aid-collection-for-ukraine
Should you have any questions, please feel free to contact us via contact@uasaz.org or approach one of our dedicated volunteers at the collection points. Your support and contributions are greatly appreciated, and they will make a significant difference in providing relief to those in need in Ukraine!