Ideas Competition Reatch 2023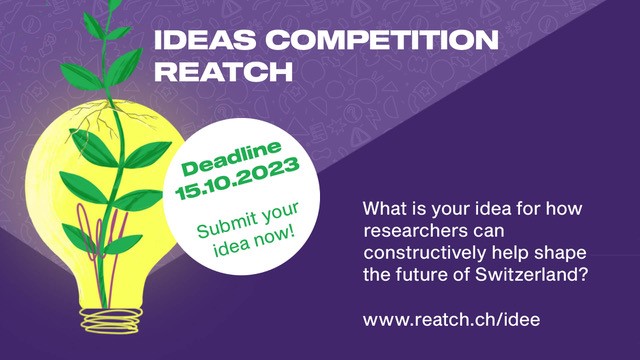 Do you have an idea how research can constructively help shape the future of Switzerland?
With the ideas competition, Reatch is looking for your solutions for the future of Switerland!
Deadline: 15.10.202
The final will take place on November 18, 2023 in Bern
With a convincing idea you can:
present your vision to a high-profile jury
win prize money
participate in our development program
Selected ideas will be published in an anthology with a foreword by Federal Councillor Ignazio Cassis.
2023 is a significant year for Switzerland: We celebrate the 175th anniversary of the Federal Constitution. In 1848, the foundations for modern Switzerland were laid. We are convinced: The next 175 years will equally need people with foresight to jointly master collective challenges and to seize new opportunities — and researchers have a central role to play.
Submit your idea now: www.reatch.ch/idee