Mitarbeit Digitaler Campus / Collaboration digital campus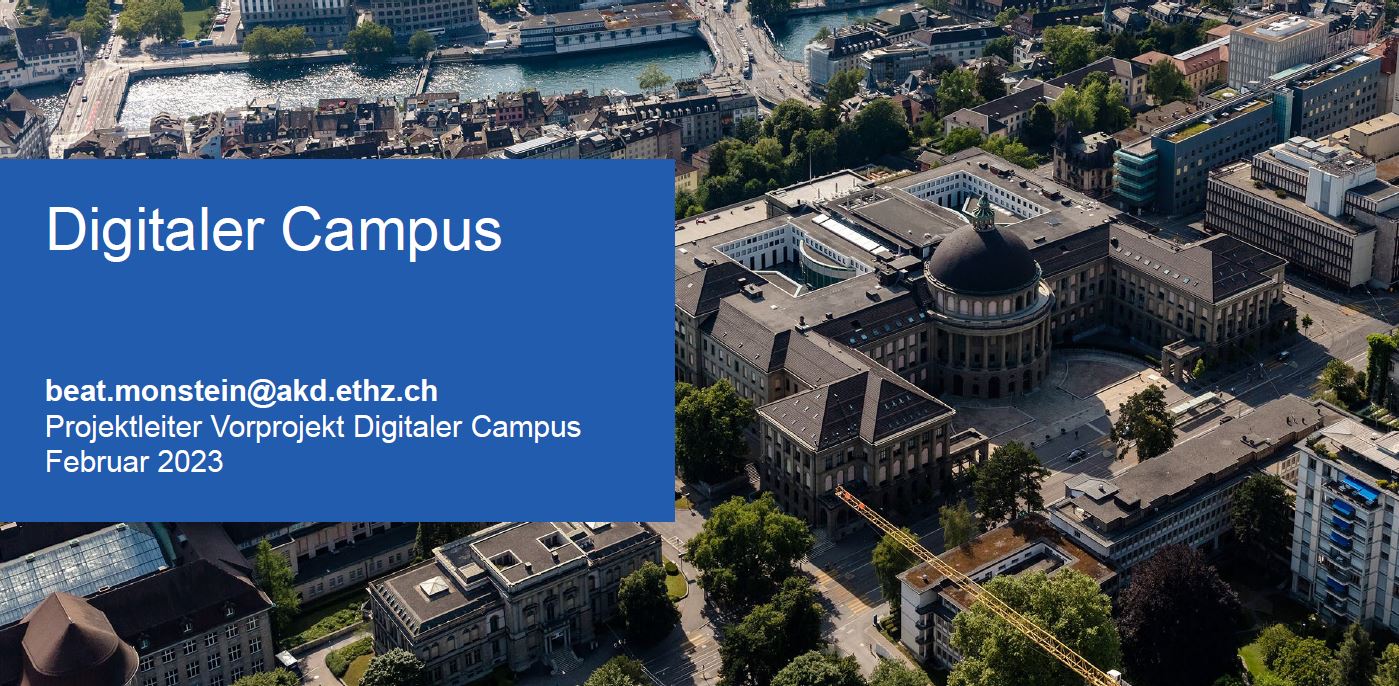 Du hast die Möglichkeit, den zukünftigen Lehrbetrieb und Lehradministration der ETH aktiv mitzugestalten.
Im Rahmen des Vorprojektes "Digitaler Campus" werden wir einen Request for Proposal (RFP) für die Ausschreibung von Campussoftware und Learning Management System erstellen. Dazu werden wir gemeinsam mit den verschiedenen Stakeholdern die Anforderungen erheben, wobei wir insbesondere auf die Unterstützung der AVETH-Mitglieder als Dozierende und Assistierende angewiesen sind.
Zurzeit unterscheiden wir 15 Prozesse entlang des Lehrbetriebs, für die wir die Anforderungen erheben werden. Zu jedem Prozess wird es voraussichtlich 2-4 Workshops (Deutsch) geben, die jeweils einen halben Tag (ca. 4h) dauern werden. Die Workshops werden im März beginnen und bis Juni dauern. Durch die Teilnahme an diesen Workshops besteht die Möglichkeit, direkt Einfluss auf die später abzudeckenden Funktionalitäten zu nehmen.
Bei Interesse bitte ich um Kontaktaufnahme.
Im angehängten PDF sind die Stakeholdergruppen und Prozesse aufgelistet und ein Anforderungsprofil beigefügt.
Für Rückfragen stehe ich gerne zur Verfügung.
Wir würden uns über eine Rückmeldung bis Freitag, den 03.03.23 freuen.
Kontakt:
Beat Monstein, AkD
beat.monstein@akd.ethz.ch
___________________________________________________________________________________________
You have the opportunity to actively shape the future academic support processes at ETH.
As part of the preliminary project "Digital Campus", we will prepare a Request for Proposal (RFP) for the tender of campus software and learning management system. For this purpose, we will collect the requirements together with the various stakeholders, whereby we are particularly dependent on the support of AVETH members as lecturers and assistants.
We currently distinguish 15 processes along the academic support processes for which we will collect the requirements. For each process there will probably be 2-4 workshops (German), each lasting half a day (approx. 4h). The workshops will start in March and last until June. By participating in these workshops, you will have the opportunity to directly influence the functionalities to be covered later.
If you are interested, please contact me.
The attached PDF lists the stakeholder groups and processes and includes a requirements profile.
Please do not hesitate to contact me if you have any questions.
We would be pleased to receive your feedback by Friday, 03.03.23.
Contact:
Beat Monstein, AkD
beat.monstein@akd.ethz.ch